EDEM wallpaper
Being the exclusive contractor of the EDEM wallpaper factory the e-Delux GmbH distributes EDEM branded wallpaper in Western Europe. With the help of German technology and high value materials the EDEM turned into art the production of wallpaper in one of the latest state of art wallpaper production facilities in Europe.
In relation to high quality embossed paper backed and non-woven backed wallpaper the name EDEM stands for excellent quality and attractive prices. This is important for all end-consumers as well as for house-painter and decorators. International designers work for EDEM. Heavy-weight baroque wallpaper and paintable textured non-woven wallpaper are two main pproducts in the whole range of EDEM wallpaper. XXL size wallpaper and a series of washable wallpaper complete the programme.
EDEM branded wallpaper is ecological, durable and resistant to light and washing. Moreover the grand collections distinguish by the wide variety of designs, patterns and textures and many options to combine them.

How to become a business partner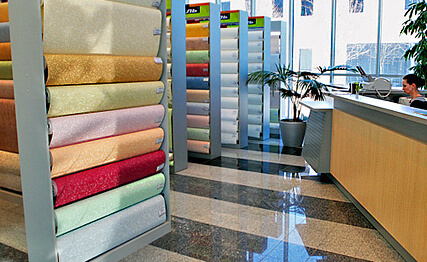 You are a retailer, interior designer or craftsman and interested in distributing our products in your region?
We are located in Erkrath (close to Dusseldorf) where we have available our warehouse and product exhibiton where you can get information about our large range of products as well as to convince yourself of their excellent quality.
Contact us. We are looking forward to your request.